September 23, 2020
I'm a few days late with this post, as both updates are already available in the App Store:
Walk More 1.5 asks the User's authorization before accessing the IDFA identifier of the device to show targeted ads in the free version; I think Apple did great introducing this, and I wanted my app to support this privacy-focused feature on day one, and indeed this update shipped the same day as iOS 14.

PhotosUpload 1.3 is a maintenance update for iOS 14 that also fixes some visual glitches on iOS 13.
Soon I'll also have a major announcement regarding my newest app, Link HUB… stay tuned!
January 23, 2019
I like that this January I am being able to spend a little more time in Xcode than my usual, but I should probably apologize because all my posts are product announcements… I promise the next time you'll read me I will cover more entertaining topics!
First, an announcement: starting tomorrow and for a week only, one of my first apps, Always There, will be completely free to download. The app allows you to put a special photo in Notification Center, both on iPhone and iPad, and is perfectly useful even with the latest Apple devices. Always There usually costs $ 1.99 (it's my only iOS app paid upfront), but I'm trying to understand if there's potentially a wider market with a different business model: I have ideas for new features, but I need to understand if spending a significant amount of time on them makes at least some sense. If you're curious, tomorrow check Always There out and tell your friends about it!
And now, the app updates…
A few days ago Apple approved GlanceCam 2.5, with support for the RTMP protocol. I can hear you scream "booooring", but it's a useful compatibility update if your camera didn't support RTSP or HTTP for streaming.
Tonight I also submitted an update for Walk More, my free iOS pedometer. I wasn't expecting to update it so soon, but a few bugs emerged and I had to fix them right away:
Steps, distance and floors are again centered vertically near each bar.
If you ever saw days' labels duplicated on the Y axis of the graph, rejoice: everything is back to normal.
Sometimes the widget crashed and showed no progress in Notification Center; now it works perfectly.
Hopefully the approval process will go smoothly and in a couple of days tops version 1.4 will be available for download.
Thanks for reading!
January 7, 2019
Apple has approved a couple of app updates to help me kick off the new year in a good way.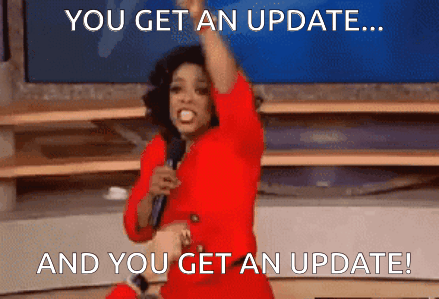 Walk More, my iOS pedometer, got some developer love and now supports iPhone XS / XS Max screen resolutions; I also fixed a couple of bugs that sometimes affected the charts' labels.
Walk More is now even more polished and pleasant to use and, while I'd still like to add an Apple Watch component sometimes in 2019, for the time being this update makes the app really solid for most users, who only carry their iPhone with them and don't wear a Watch.
Walk More is still free, and is great if you've never used a pedometer or know someone who made a new year's resolution to be more active, so check it out!
GlanceCam has been updated with a few minor bug fixes and the addition of its Privacy Policy to the Support menu.
I am so thankful for some of the reviews GlanceCam is getting and I found them very motivating to keep improving it:
"Finally, A Cam Viewer that Works!"
"I use GlanceCam pretty much all day"
"This app makes viewing all of my cameras possible from one interface and I LOVE THAT"
"Remarkable and instant support"
Hopefully, in January I'll be able to ship something more, but don't want to jinx it.

July 24, 2017
After an amazingly quick Sunday app review, Walk More 1.2 is here. Download it for free and tell your friends about it!
This new version introduces two localizations, Simplified Chinese and Italian, and the possibility to brag about your steps count via the iOS share sheet.
A quick note that will probably be of interest only for other fellow developers: before submitting, I've noticed a warning in iTunes Connect regarding my in-app purchases. Turns out that consumable IAPs that remove ads need to be replaced, since Apple wants that kind of behavior to be restorable and available across devices, which completely makes sense. So, I kept the good and great "tip" in-app purchases (changing their tiers to the alternate categories with round values in the process) and replaced the "small tip" with a new "remove ads" non consumable IAP before submitting version 1.2. The approval process went smoothly, even though after submitting I worried about the lack of a restore button, usually requested for restorable purchases (I'll add it in the next version, just to be safe).
After this minor update, I have quite a few ideas for Walk More's future, but they'll be put in the parking lot™️ for a while: my August will be completely focused on the development of Tasktic 2.0.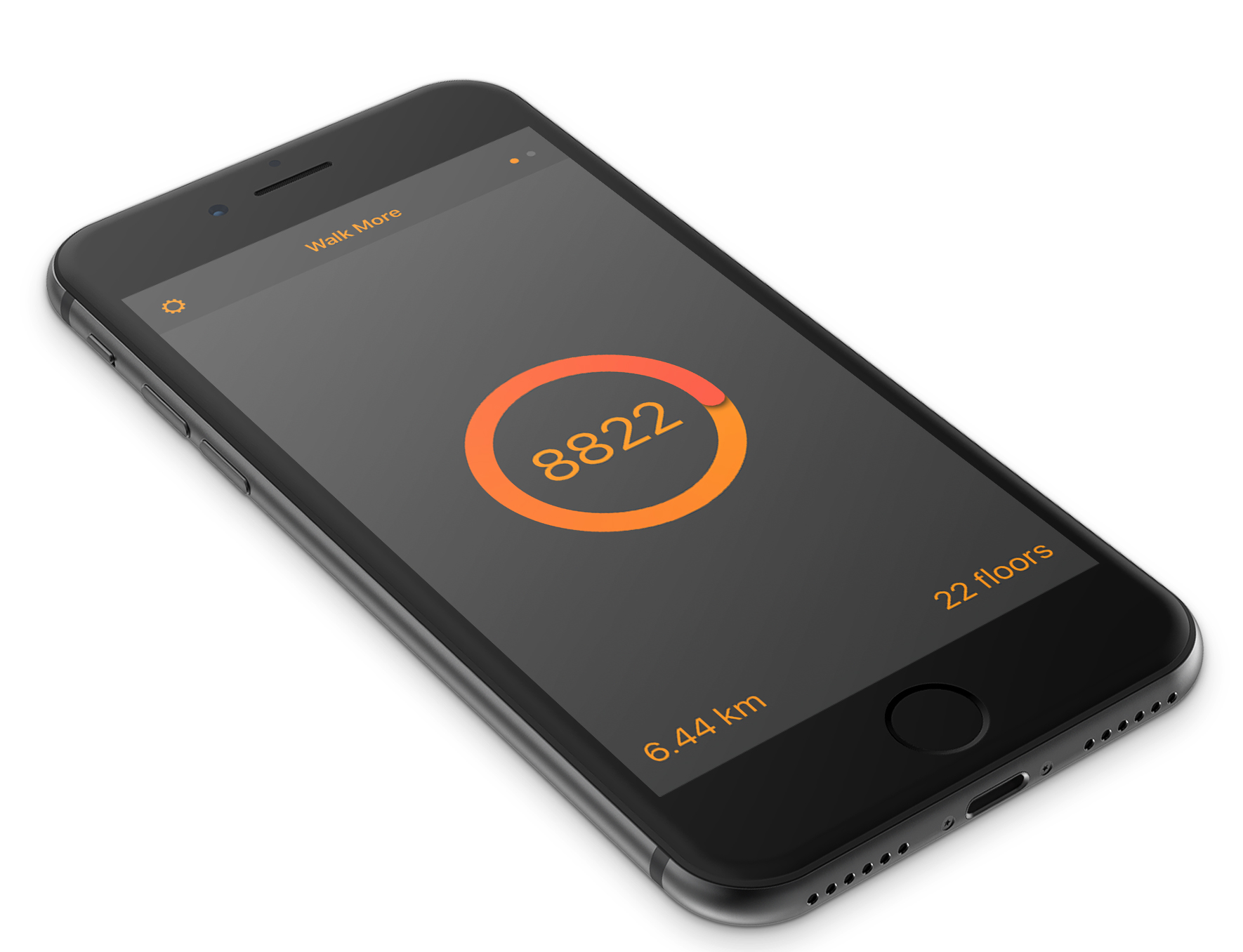 June 7, 2017
As I announced earlier this week, I submitted a new app to Apple.
Walk More: powerful pedometer for step counting is my fourth app and it is available for download.
Walk More is a simple iPhone app with a dynamic dark look and lively orange accents. It helps you to keep track of:
Every step you take when you have your iPhone with you.
The distance you walk (in miles or kilometers).
How many stairs you climb (iPhone 6 or newer required).
You can set a daily goal, see your progress inside the Notification Center widget and review your statistics and top results with the help of simple graphs.
Walk More is free, and you should download it right now: seeing your progress every day can really help you achieving a healthier lifestyle!
June 5, 2017
The last post here on cdf1982.com was appropriately named "Cultivate bad ideas", and I have indeed pursued a lot of ideas in the last 8 months.
One (me) might actually say that I have bitten off more than I can chew, considering my day job and other personal commitments…
To be specific, I have worked on - and skillfully avoided completion of:
Tasktic 2.0 (80% done, but the last 20%… let's just say it will take a few more months to release it);
A new Apple TV media player (currently nothing more than a stub);
Walk More, my take on pedometer apps (more on that later);
A secret project;
Setting up a Virtual Private Server, just to see how hard it was (it's not) and to be prepared for future needs.
I believe that all those ideas are good and worth pursuing, just not all at the same time.
So, today I submitted Walk More to the App Store; I would have liked to add a couple more features to version 1.0, but tbh the core functionality is there (and has been for months), as is the overall look and feel of the app (which I very much like), and it's time to start shipping products again.
Reaching the release of an app, and placing another (the media player) in the parking lot, will free up a bit of mental space and, also important, should stop me from feeling guilty every time I think of opening TextMate instead of Xcode: I completely stopped blogging in the last months because I tried to prioritize software development, but writing more commentary posts about tech news was one of my goals for 2017.
So, let's start WWDC week planning to watch a lot of sessions, blog a bit more and focus all my development work on one app at a time (starting with that secret project mentioned above)!
In the meantime, I'll let you know when Walk More will be available for download… please let me know if you'll enjoy it!