December 2, 2020
A couple of days ago ClipBar 1.3 became available in the Mac App Store with two handy features:
You can now share the current content of your pasteboard (be it text or an image) to other apps with the share button in the lower left corner of ClipBar's popover (which appears when you click on the app in the Menu Bar).
ClipBar popover is now more effective when you have copied a bunch of text and want to keep only part of it: when the popover is visible, select the text you want to keep and either right-click and copy, or hit CMD+C.
I can't express how grateful I am for how ClipBar has been welcomed: the app has reached over 180 upvotes on Product Hunt, pretty cool for a nerdy utility!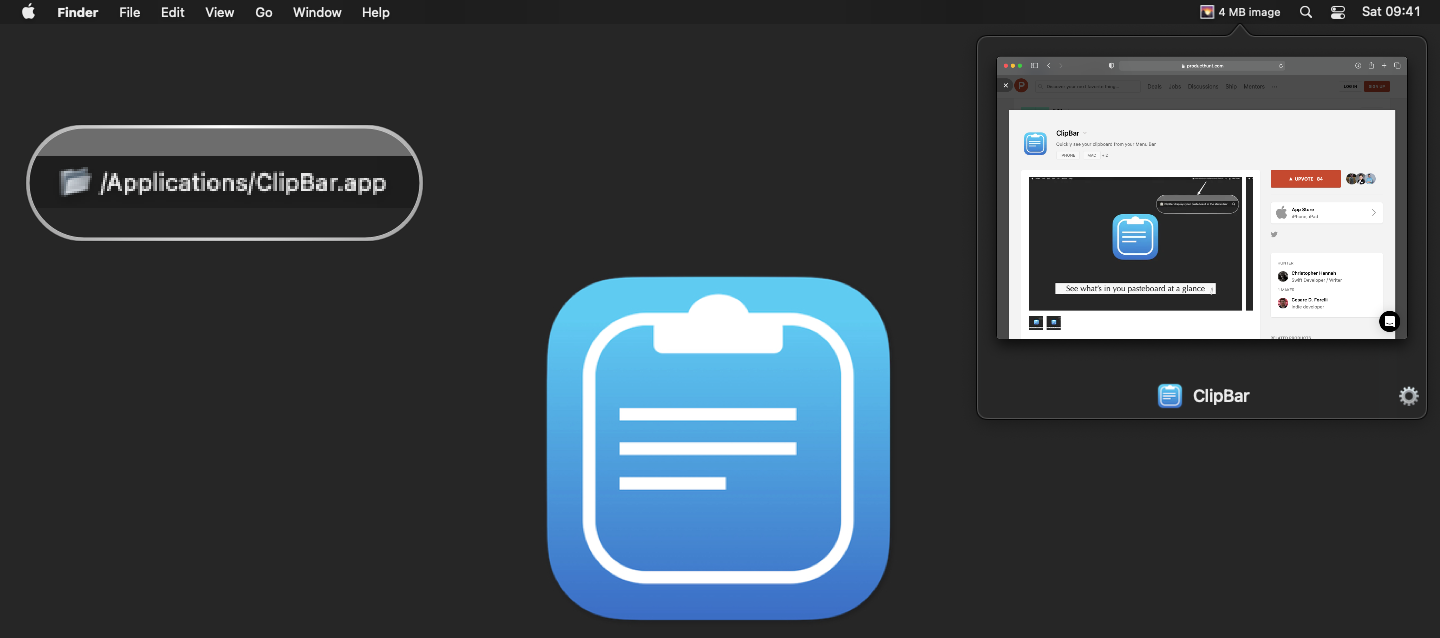 November 29, 2020
Busy week for ClipBar: Pasteboard Viewer, my new app that allows to quickly check what's in your Mac's pasteboard before actually pasting:
The app launched 5 days ago.
The next day, version 1.1 added the ability to view the untruncated pasteboard text by hovering the mouse on the app in the Menu Bar, and also fixed the inevitable bug that had to creep in before shipping version 1.0.
Yesterday ClipBar gained unexpected attention on Product Hunt, where it currently has 98 upvotes, an astonishing number for such a nerdy and niche utility.
Today I submitted a more significant update to Apple for review, and I am happy to announce that version 1.2 has already been approved!
Here's what's new in ClipBar 1.2, that you can already download from the Mac App Store:
A new popover appears when clicking the app in the Menu Bar, allowing to preview images & display longer texts/paths without truncating them (with the additional benefit that you can extract part of the copied text instead of pasting everything and then deleting what you don't need…).
ClipBar now tries to conceal passwords, thanks to an agreement between some software developers at NSPasteBoard.org; while this is not perfect, nor 100% reliable as explained in the onboarding of the app, it improves privacy. But - to be 100% clear - this feature does not remove the need for you to evaluate if an app that keeps your pasteboard's content in plain text on screen is acceptable considering your working environment, your employer's rules, and your screen-sharing activity.
I am very happy for the unexpected interest in ClipBar. I can't say I have a thousand more features to add, but stay tuned because a couple of ideas I'm cultivating might prove to be nice features!
November 28, 2020
A few days ago, my friend Chris made me the nicest gift and hunted my new app ClipBar on Product Hunt 😸.
Today, totally out of the blue, the app gained momentum on PH and – while I'm writing this – it has reached 60 upvotes, which I consider amazing for such a niche product!
If you're into PH, and you should because it's a lovely community centered on building up people and ideas, please take a look, let me know what you think and consider sharing it and/or showing your support with an upvote: I'm really proud for Clipbar achieving this unexpected result after less than 4 days from its under-the-radar launch, and I am working to release version 1.3 tomorrow, which will include a popover for previewing long text and images.
I almost forgot, ClipBar is available on the Mac App Store!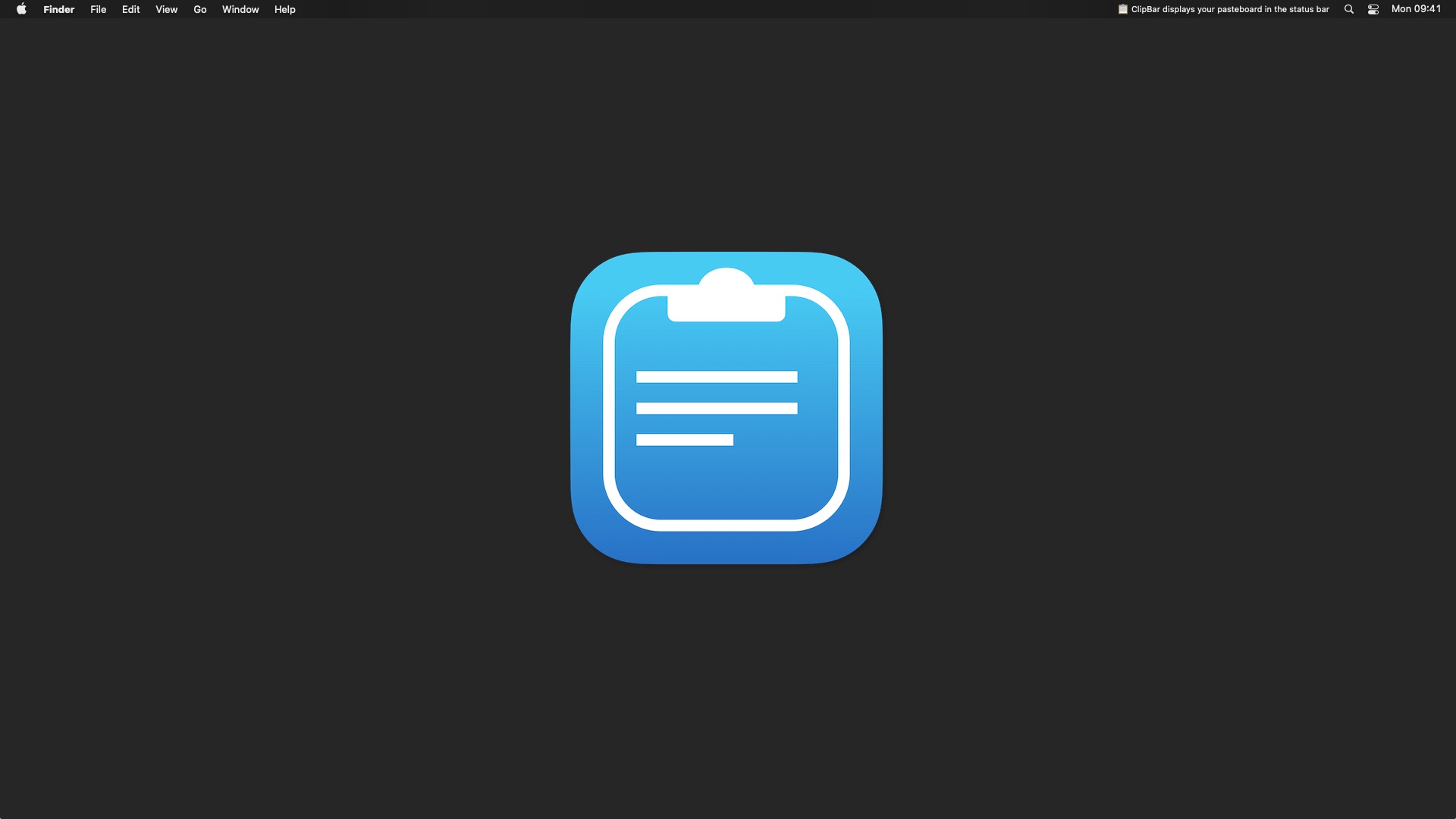 November 24, 2020
As I mentioned on Twitter a few days ago, my brain has found a creative way to sabotage the work on my main app GlanceCam: instead of being plain unproductive, 🧠 screams 🐿 in different directions, knowing that I will eventually start the chase.
So, here I am to introduce you to my latest diversion, ClipBar: Pasteboard Viewer.
ClipBar is a small macOS utility that allows to quickly check what's in your Mac's pasteboard before actually pasting; if you have ever wondered what was the last thing you copied, this app is for you.
ClipBar lives in the Menu Bar and shows the last item you copied: if it's text, the corresponding string is displayed (you can set the maximum length shown and where to clip the text if it's longer: at the beginning, in the middle or at the end); for files, it shows the full path; and, finally, it displays the size of the images you copy. All this, with optional emojis 🎉.
I'm finding the ability to quickly glance at the content of my pasteboard surprisingly useful, and I believe it's making me both faster and more accurate in my work, from emails to writing and programming.
The app is modern, small and efficient and works natively on Intel Macs and on Apple Silicon, being a good citizen both of Big Sur and of previous versions of macOS (starting with High Sierra); it's not a clipboard manager, but it can complement yours, if you use one (for me, it's Alfred).
Since your pasteboard's data might be very sensitive, ClipBar only works locally on your Mac: no sync, to 3rd party libraries or frameworks, no analytics… actually no Internet connection at all! The app is fully sandboxed and does not persistently store your pasteboard contents on disk: it only keeps the last item in RAM while the app is running. More details con be found, in plain English, in the Terms of Service and Privacy Policy.
Speaking of terms, there is one thing that you should carefully consider before starting to use the app: ClipBar displays on your screen, in plain text, the last thing you copied, and that might include passwords or other privileged informations; if you work around other people or screenshare a lot, you need to evaluate if this is the right app for you, or at least remember to quit it before having collegues look at your screen. When you launch the app the first time, you can find more informations about this, to help you make a more informed choice.
I'd love for you to try ClipBar today, and maybe tell your techy friends about it! You can already find it in the Mac App Store, where it costs very little money – with no subscriptions or in-app purchases and, again, the peace of mind of knowing that your pasteboard's content will remain securely confined on your device while being easily glanceable!