Link HUB 2.0 with Lock screen widgets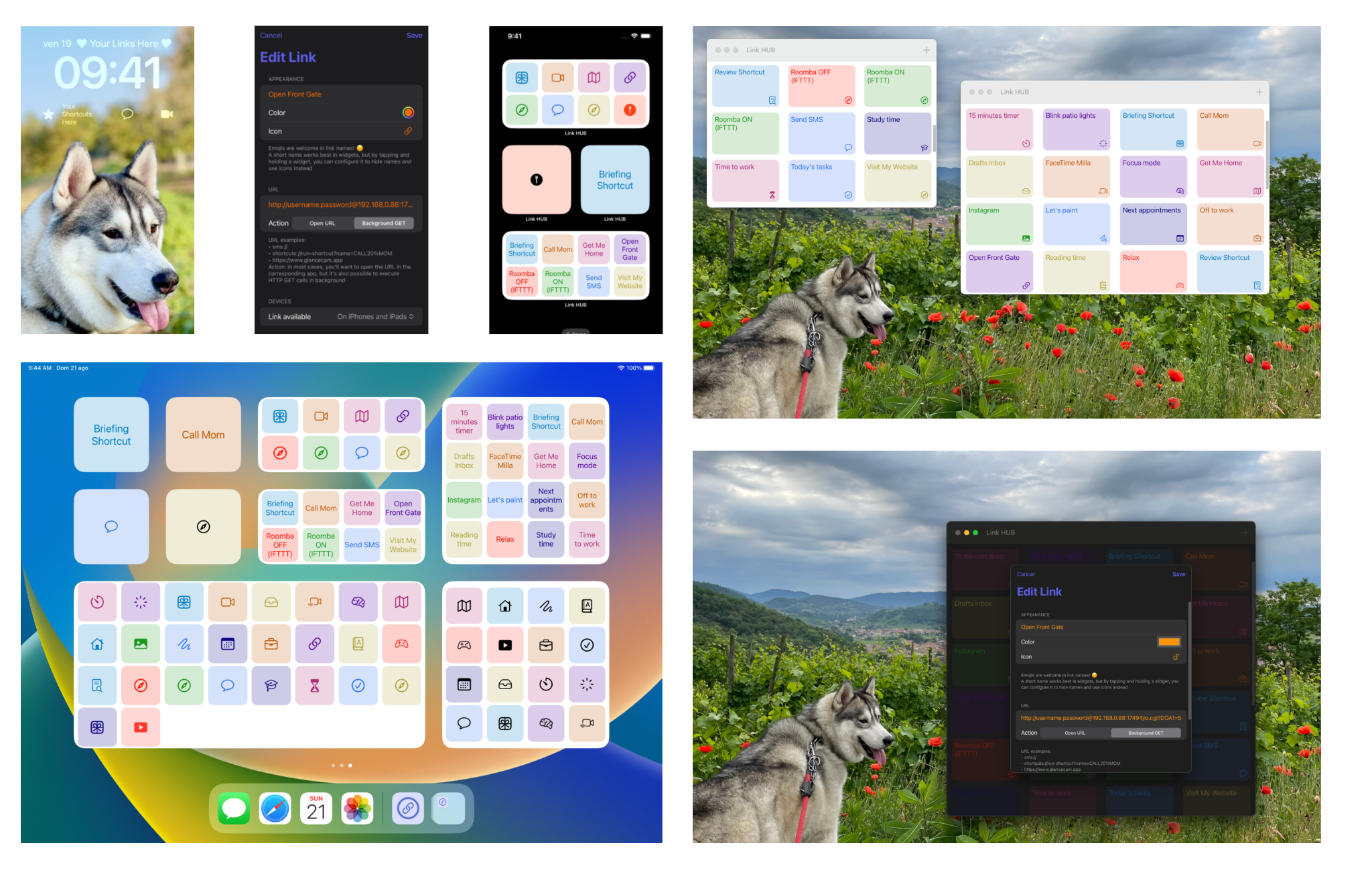 Just as iOS 16 lands on your iPhone today, Link HUB 2.0 - URL Launcher & Widgets is also available on iPhone, iPad and Mac!
Download it now for free to unlock a level of speed and productivity unimaginable before!
Thanks to the new Lock screen Widgets for iOS 16, the apps, Shortcuts and URLs you rely upon the most are only one tap away, in any moment; all widgets sizes for the lock-screen are supported, and for each one you can choose if you want an opaque background or a less-intrusive look, so your iPhone can serve your needs while perfectly matching your style!
Just a few examples of what you can do directly from your iPhone's lock screen with Link HUB's superpowers:
Open any app you want, and in some of them – with the right URL – navigate to specific sections
Launch automations from Shortcuts… basically Link HUB is the shortcut to your Shortcuts' shortcuts 🤪
Start a FaceTime call to your special someone
Jump directly into a conversation in Messages
Open any website
But there's more: in Link HUB 2.0 widgets aren't only on your lockscreen… you can now add as many super-high density "regular" Widgets as you like! While the small widget is a big convenient button for just one link, a medium widget can contain up to 8 links, a large one 16 and the extra-large widget on iPads makes 32 links available to you… that's double of what most alternatives (including Shortcuts' native ones 😉) offer, and you can have them on all platforms: iOS, iPadOS and macOS!
Version 2.0 also includes a redesigned (in SwiftUI!), clean and easy to use screen to add and edit URLs, the ability to finally select custom icons for every link, and improved speed and reliability.
Obviously, all the beloved features of Link HUB remain: it's still free for up to 4 links, when you first launch the app there's a quick tutorial and some example links to get you started even if you never worked with URL schemes before, everything syncs via iCloud, you can choose that some links should only appear on certain classes of devices, you can even program and read NFC tags (this nerdy and super-useful feature requires a subscription to Link HUB Pro, which also unlocks unlimited links for just $ 4.99 per year), or send HTTP GET requests 🤓 for IoT automations.
Link HUB 2.0 is the 8th free update since Link HUB's launch 2 years ago and I think you'll love it. I also hope that the convenience of having anything you want on the lock screen will be for you the game changer that's already been for me during the months of development and refinement of the app this summer.
Get Link HUB for free from the App Store and immediately unlock the power of your iPhone's lock screen!